In this article, you'll find guides for creating and restoring backups in cPanel
The Backup menu in the Files section can be used to generate / restore backups of the following:
A complete cPanel account
A MySQL database
Mail filter
Mail forwarder
How to create a complete cPanel backup
The full cPanel backup includes all account files, databases, e-mail accounts, and settings.
We recommend that you create a complete cPanel backup before any major data changes / migrations.
1. Go to cPanel> File section> Backup menu:

2. Click Download full site backup:

3. By default, a full cPanel backup is saved to your account's home directory.
If you want to select a different destination for the backup, change the backup destination.
Click Generate Backup to continue: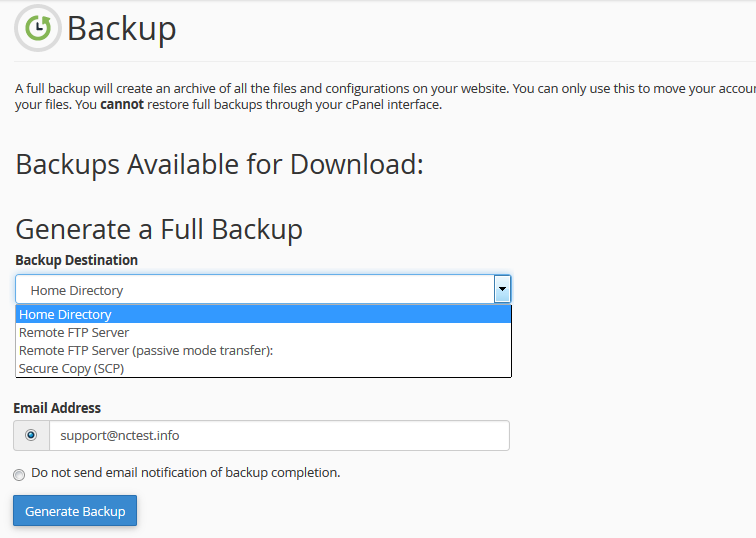 4. You will see the following message informing you about the start of the backup generation process:

5. Click Back to monitor the status of the build process in real time.
A green check mark next to the backup name indicates that the backup generation is complete.
You can now download it or navigate to the remote server to see if there is a backup: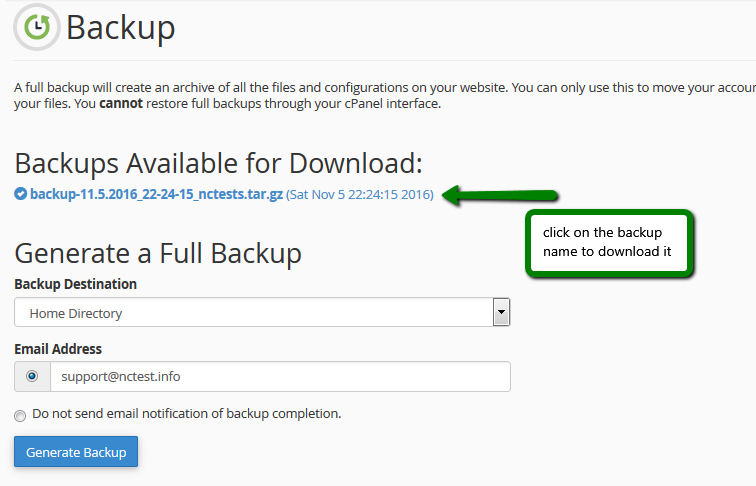 How to restore a full cPanel backup
Please note that if you have a share or reseller account with us, you will not be able to automatically restore a full cPanel backup through the cPanel interface.
To recover it, you need to submit a ticket to our hosting – support department.
If you have a VPS or dedicated server with root access, you can restore the full cPanel backup yourself in the WHM> Restore Full Backup / cpmove file.
NOTE: This will overwrite all existing files, so continue to make sure that there is nothing important left.